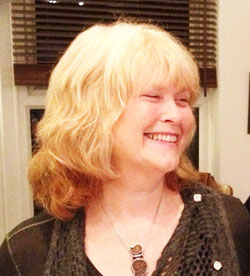 I was born in Manchester, apparently near a park called "Boggart Hole Clough", well that's what my mother told me. She also said that Manchester was a grey place in 1951, where everyone had to scrub the dirt from their steps every week. They lived in one room and it must have been very hard to have a baby there. Apparently I cried all the time.
Soon Dad got a job in Cambridge and they bought a terraced house for ?3000. I remember my hard, high iron bedstead and flowery wallpaper that I drew on with pen and got into trouble. Other hazy memories of Cambridge life were an old lady living next door who put her wet washing through a massive contraption called a mangle and the sheets came out flat. On the other side of our house lived a family with loads of children who, for some reason, I wasn't allowed to play with. I remember looking through the hedge and watching them play wishing I could join them. I also remember the milkman had a horse drawn cart, and one day I was allowed to sit up front and drive it!
When I was 3 we moved to a detached house in Walton on Thames, Surrey - commuterland. I had a happy childhood playing with all my friends in the muddy track which was our road, making up plays and performing them to long-suffering parents, collecting dogs to "train" in the garden, making fires and cooking food over a fire in front of the old chicken shed at the bottom of the garden. My brother Jeremy and I got on well but he was sent to boarding school at 7, so I only saw him during the school holidays and was very much an only child. We had a solid fuel boiler in the kitchen which had to be lit every morning and jack frost iced up the inside of the windows on winter mornings and I got dressed in the warmth of the airing cupboard. We swam in the River Thames, I sang in the church choir and Dad's madrigal choir and I went dancing at "Hersham Hop" to Tamla Motown with my friend Lindsay. Walton Park is now a main road leading to Hersham Station, full of cars. Whilst a teenager, I played guitar and sang in a group called "Dee, Pete and Viv" that mostly sang covers of Peter, Paul and Mary. We were successful enough to do a tour of Denmark school folk clubs and sing on national Danish radio.
I went to a posh girls school where I had to wear a red beret and grey felt hat in the winter and thick grey stockings with suspenders (!) and a straw panama and stripey dress in the summer. I was no good at Latin and was put into the German class. I wasn't good at that either and ended up learning cookery. I was a natural with music but struggled with the classical part. However I ended up with an A grade for Music A level and an E pass for English language and 9 O levels which got me into Redland Teachers Training College in Bristol. I was always overweight and was constantly on diets to get thin. They never worked. I sang with Alan, Pete and Danny in a folk group called "Bethams" and we did a fun summer season in McTavish's Kitchens in Fort William.
I met John, my first husband when I was 16 on the bus on my way to The Barge folk club in Kingston on Thames. We were soul mates for many years, parting for a while whilst I did my A levels and eventually marrying. I made my wedding dress myself which cost only ?4 in material. He joined me in Bristol studying electronic engineering and then we both went back to Leatherhead in Surrey where we bought our first house for ?8,000 and I taught in a primary school and after several miscarriages Ben was born. As soon as we could we moved back to the Bristol area, where we first bought a large maisonette in Weston Super Mare, up the hill near Grove Park with a great view of the sea. In Weston hospital Joe was born - very easily and thenI nearly died giving birth to Amy with an emergency caesarian. The flat was so big the boys rode their trikes around on the amazingly thick carpet that used to belong to Elizabeth Taylor and Richard Burton. It was a shock being a mother of these three lovely little blondies in just over 4 years and sometimes I saw my reflection in shop windows - a pale tired bedraggled woman - pushing a triple buggy along and couldn't believe it was me. I needed all the help I could get and my mum and mother in law came to stay when I had the babies and Auntie Mary came to visit often as she travelled around the country with her job with the RNIB. I still kept up my music played as a duo with my friend Pete Thompson from "Bethams" and another duo with Jenny.
The thirty steps up to the the front door and the lack of other young mums with kids drove us to find a more suitable house for a family. With some financial help from the family, we moved to a practical 1960s house in Winscombe on the foothills of the Mendip hills. A safe cul de sac near both playgroup and primary school with a level garden and plenty of children around for our kids to play with. Here John and I struggled to make ends meet and I worked in a mushroom farm at weekends and then as a literacy tutor in the evenings. I joined Alan and Paul in a band called "Meridian" which had some success around the local folk clubs and later joined Martin Hanstead and Stefan Hannigan forming a multi-instrumental folk band called "Orion".
I bought my own house in Narroways Road, St Werburghs, Bristol when Amy was 12. Gradually over the years as the kids left home to go to university, I spent more time in Bristol and less time in Winscombe. John and I divorced and I had a bit of a wild time - a reaction after being a mother of three. I sang as a duo with Martin as "Orion" and with "The Sweet Soul Sisters" and worked for thirteen years as an adult literacy and computer tutor in Hartcliffe and The Open Learning Centre in St Pauls. Amy moved to Bristol and after living in Easton for a bit moved into the next door house where the rent was incredibly low and stayed for 11 years until she married Mark and went to live in a truck in the Forest of Dean. She now lives in a lovely little cottage in the forest with their 2 gorgeous daughters. Joe came home from Manchester to stay temporarily in "The Cupboard" a low-ceilinged storage room in the roof space. He was there for three years rent free but when his did his MA at Bath a room became free and I thought he should have a room to study in. He moved out for a bit with various girlfriends but returned and I enjoyed his company here. He now has a little boy and lives in a characterful house with his partner on the self-build in St Werburghs. Ben moved to London to do his MSc and got a job as a technician and lecturer at Uxbridge University and then through Naked Voices, met his girlfriend Jo and moved in with her in Stroud. They have my eldest granddaughter who is a delight but have unfortunately parted company. Meanwhile I formed "The Gasworks Choir", a huge and lovely community choir - and a tighter more professional acappella group "Naked Voices" with Ali Orbaum who had more recently been a member of Sweet Soul Sisters. I co-directed both these groups for years but have recently reduced my work load in order to have more time for myself and my family. My elderly mother and aunt live in sheltered accommodation in Bristol now and I see them quite often and try to see my 4 grandchildren too. Arranging, teaching and performing songs is still my passion and I still teach Gasworks Singers, singing holidays and camps and a few other interesting jobs as they come up.
As a side-line, but a very important financial contributor to my income, I have also been for many years a family director of the Newbury Weekly News. This extra income has been a kind of "arts council grant" which has enabled me to live comfortably whilst working as a full-time musician which I think brings happiness and relaxation to many people. I use the studio next to my house forl my choirs and it is a great place to sing, dance, pray and be at peace. Being soundproofed, it shuts out all the city noise.
In 1997 I met Scott and he moved in with me and a couple of years later we had an amazing partly pagan, partly buddhist wedding with bagpipes, accordions, citars, guitars, dancing, poetry, theatre and singing. He is blind but having grown up with blind people in my life, through my Auntie Mary, it didn't daunt me. We lived happily together for 17 years until he fell in love with a volunteer from his work. This young girl, the same age as my youngest child, is also blind and a Muslim from Pakistan. He left me for her, converted to Islam and was divorced and married to her within a year. This has left me somewhat shell-shocked and alone. This is the burden that many women over 60 must bear but it is a hard one. I was happy with Scott and found it beyond belief that he could be so under the influence of this young un-evolved woman that he has no longer been allowed to speak to me or my children and grandchildren, who were his family for so many years. I will recover and hopefully meet another lovely man to spend the rest of my life with!
I like people around us and there have been many people living at Narroways Road, in our house. Charlie, Ian, Mike, Patrick, Neil, Lorenzo, Matt, Mark, Phil, Nick, Hugh, Mikki, Phoebe, Paul, Matt2, Giorgio, Keith, Joe, Bekki, Roger, Kayle, Leye, Sam, Rosie, Liam, Alice have all lived here. I love sharing my life, being involved in other people's lives and living communally - all helping and supporting one another through sickness and wellness, heartache and happy times. Now I share my house with a family... Keith, Sarah and daughter Freya. I have known them for many years and they live here in exchange for physical help with the house and garden.
Narroways Road is a cul de sac and is near many green spaces where we can walk the dogs. One year we had a great street party and our neighbourhood is a friendly one. When my friend Reni up the road died, her funeral wake was held in the studio and the community came together to grieve and to celebrate her life.